Optimal
logistics
based on artificial intelligence and Big Data. Precise optimization of routes and reduction of transport costs up to 60%
Saving logistics expenses
Saving logisticians' time
Improving transportation quality
The system addresses the following issues
Allows you to carry more cargo with less transport
Creation of profitable and personalized international routes
Automatic generation of electronic waybills based on created routes
Efficient ramps control and easy comparison of Plan and Actual
Simplifies and accelerates transport and logistics management by 2-3 times
Is it possible to manage a car park of 200 vehicles as easily and efficiently as two cars? How to be in time to all customers, but spend minimal money on goods delivery? How to identify and solve the most complex logistical issues quickly?
Logistics optimization is a global trend that allows companies of various sizes and fields of activity to perform large amounts of work with fewer resources.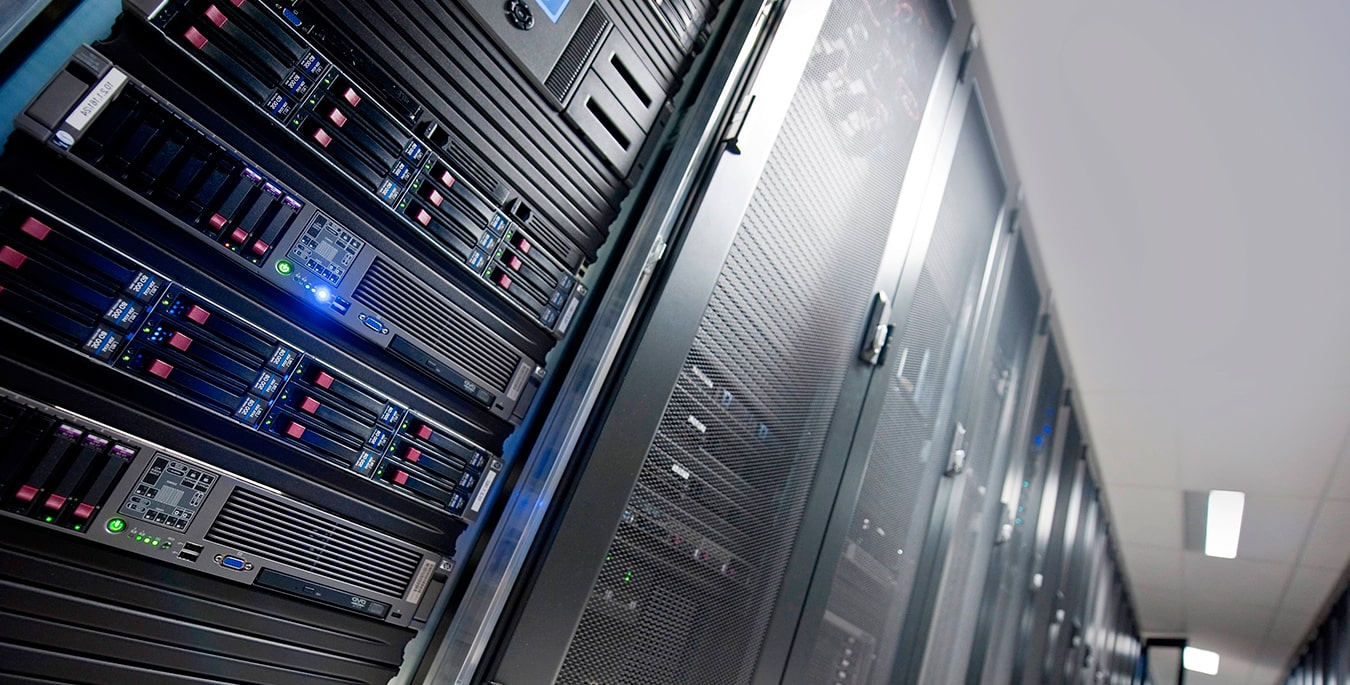 Unique multifunctional AI-based system BelTransSputnik
fully automates the transport logistics of your enterprise
fully automates the transport logistics of your enterprise:
Analyzes and accurately predicts traffic events
Automatically generates electronic waybills
Monitor drivers carefully
Reduces transport expenses to a minimum
Optimal logistics
The solution is intended for daily assistance in optimal planning of corporate / hired transport. The system not only optimizes logistics operations, but also suppresses any intentional and unintentional deviations from the given plan.
Based on AI and Big Data
In seconds, you can build networks of optimal delivery routes, taking into account real and predictable traffic factors: from the speed of traffic on all streets / highways to allowing drivers to work only with valid documents (driver's license, medical certificate, etc.)
Multitasking
The system is simple and easy to use and allows you to effectively perform a variety of transport logistics tasks — tasks of any kind and complexity.
Optimal logistics for national and local carriers
LOCAL
Fully automated process of distribution of applications for existing vehicles and building a network of routes with minimization of costs for their implementation
More
Entirely automatic process
The function of planning optimal routes (logistics chains) for domestic carriers is one of the most popular tool in the Transport Monitoring and Analysis System from BelTransSputnik, adapted for domestic carriers. With its help, many time-consuming routine tasks in logistics will be fully automated, and each car from your car park, regardless of its size, will work as efficiently as possible, without losing a penny of the company's potential profit. All routes are built on the basis of the local licensed and regularly updated vector State Navigational Map of Belarus. Toll roads, seasonal axle load limits, actual weather and even road surface temperature are shown.
Optimal and economical routes based on:
current and predicted traffic speeds on all roads and streets
up-to-date weather forecast
traffic jam and accidents forecast
compliance with the AETR standards
following toll roads or detours
weather conditions throughout Eurasia
seasonal road limits of permitted axle load
actual queues at border crossings
additional parameters of vehicles sent on a trip:
— cargo weight
— fuel consumption coefficient per 1 ton of cargo
— fuel consumption
— fuel tank(s) volume
— delivery / unloading time window
How the system creates routes
After the planning is completed, the System creates electronic waybills, detailed 'flight assignments' for each roving workers (which street to go, where to turn, etc.), detailed route trajectories on the map and instantly sends them directly to the drivers' (couriers') smartphones/tablets, wherever they are.
BTS Route: Android mobile app for roving workers (couriers, merchandisers, truckers, etc.)
How the app works
How the app works
A mobile device with the BTS Location app installed can completely replace a standalone GPS tracker. This is particularly relevant for organizations with hired vehicles. Instead of the inconvenient rearrangement of 'iron' GPS trackers from car to car — just transfer the smartphone from the old contractor to the new one. Or offer him a free download of the BTS Location mobile app on his phone.
The function 'Optimal logistics for national and local carriers' provides:
convenient export / import of the entire array of delivery locations (addresses) from any of your ERP or accounting software (1C, Galaktika, etc.)
instant creation of electronic waybills for all your drivers according to the routes made by the system
route optimization based on minimum mileage, delivery time or costs
automatic addresses geocoding for delivering goods or serving your customers
opportunity to work with both own and borrowed vehicles
additional optimization of the solution obtained by playing with boundary delivery parameters: shifting non-critical delivery windows by the logistician, etc. for further transport costs reduce
the ability to take into account weather conditions forecast
the ability to add tasks to vehicles in the process of moving along the route
the planned cost of all transport work 'for tomorrow' (taking into account the cost of toll roads, a machine hour, a mileage, etc.)
integration with BTS Route and BTS Location mobile apps
instant sms or e-mail notification of the client about the arrival time of the car
Electronic waybills
WAYBILLS
Electronic waybills are a complete replacement for time-consuming, unreliable and outdated paper workflow
How the function works
How the function works
The 'Electronic waybills' function in the 'Optimal Logistics' solution is designed to completely replace labor-intensive, unreliable and outdated paper workflow. No less important is the fact that using electronic waybills at the enterprise solves problems in terms of clear interaction between the company's structural divisions or controlling external services (customers). Various departments can enter their comments and evaluations of the driver's work in the electronic waybill. And confirm its true mileage. The car has not yet returned to the base, and you already know how satisfied customers are with its work.
Electronic waybills are compiled manually or generated automatically on the basis of constructed routes
Key benefits of the waybills function:
quick (from 10 minutes) and convenient waybills creation for cars or trucks, buses or construction equipment
instant disputes resolution between different services: the System is unified and has flexible options for setting up access and control rights.
automatic generation of electronic waybills based on created routes
small and instant document flow, available for control by all interested services
convenient analysis of vehicle mileage, fuel consumption, time on duty, etc.
You will always monitor: when, to which ramp, what cargo, what tonnage the car will arrive — for early warning and involvement of warehouse employees
More advantages of the function
More advantages of the function
One of the key advantages of the Optimal Logistics solution from BelTransSputnik is its multifunctionality and focus on solving real issues that logistician, drivers and even warehouse employees face.
The Optimal Logistics solution can also be used effectively by large logistics centers that do not have their own car park, but only provide warehouse space for rent. With the help of the Ramp Control function, you will always be able to see when, to which ramp, what cargo, what tonnage the vehicle will arrive — for early warning and warehouse employees' involvement. So, they can process incoming cargo as quickly and efficiently as possible. And this is always an increased capacity of your warehouse, satisfied customers, grateful drivers and high business efficiency!
Optimal logistics for international carriers
INTERNATIONAL
Optimal routes planning, taking into account a variety of factors: from calculating the distance traveled on toll roads to using exclusively partner gas stations 
Solution options
Now, when planning routes, we also take into account the rules for the drivers work and rest according to the AETR. The system will not only generate optimal route with considering the mandatory parking according to the AETR, but also indicate at what is the best time to stop.
If you build an optimal route from your car to the loading point, the System will take into account the actual state of the tachograph in the car. It will show the estimated time of arrival and moments of rest, taking into account the previous trips of the car.
What this function provides
Your driver and cargo are always under full control: the dispatchers will immediately learn about any deviation of the car from the route and a clearly defined 'flight assignments'. During the route, the driver will no longer visit a hypermarket for sales, will not stay overnight with cargo in an unsafe parking lot / roadside, will not add extra kilometers, will not ignore refueling at partner gas stations, and will not be able to disrupt working hours imperceptibly.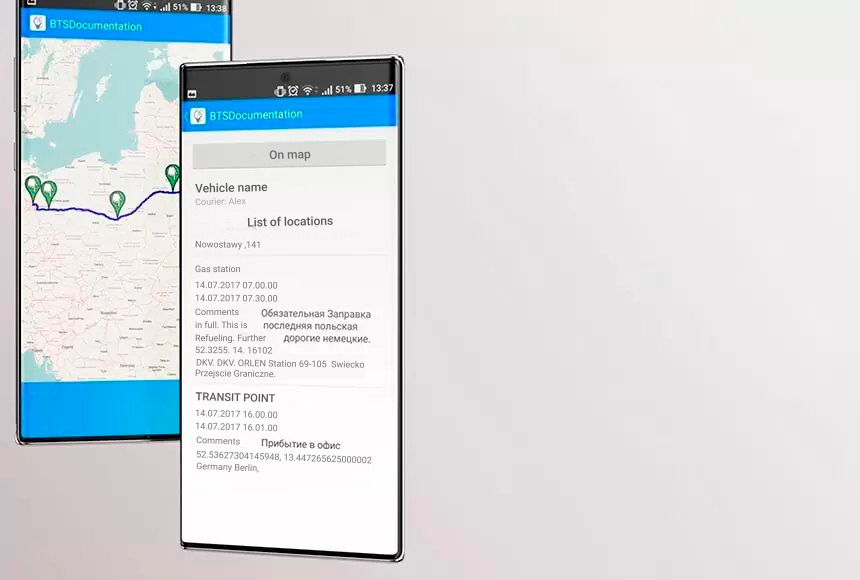 Benefits for logisticians and drivers
Routes are built using complex algorithms, which are now performed not by logisticians, but by a computer. At the same time, logisticians can add their own conditions to the configuration of the routes being built, aimed at maximizing the optimization of the company's transportation costs. Drivers also benefit from this: now they receive clear 'flight assignments' and corrections online straight to their smartphone or tablet through the BTS Documentation app. And the function of saving GPRS-traffic in roaming allows the carrier to save additional funds on Internet communications.
The optimal route is formed considering the following criteria:
the shortest distance calculated on the basis of the road graph of the most up-to-date electronic maps
optimal placement of unloading / loading points, which is also based on the criteria of the shortest distance and road capacity
safe parking recommended by insurance companies
gas stations beneficial for your company
delivery windows
customer priority
load capacity and transport volume
weight and dimensions parameters of cargo
cargo compatibility
set time for maintenance, unloading / loading
number of days for complex routes
multiplicity of ramps loading
available vehicles and drivers
Calculation of the cost of routes on toll roads in different countries before departure.
How the function works
After the route is completed, you can visually compare PLAN and FACT on the map: mileage, travel time and unloading / loading. The system highlights in red all deviations from the PLAN and shows the time and mileage losses because of these deviations.
Who needs this solution
WHICH AREAS
It doesn't matter how big your car park is and what kind of activity you carry out (passenger transportation, food delivery, merchandising, long-haul transportation, international courier service, field service, repairs, etc.) – BelTransSputnik system with the integrated solution 'Optimal Logistics' will bring the company's logistics activities to a new level!
Principle of operation
Working principles
STEP 1
You automatically download a list of delivery locations and cargo parameters from your ERP, or enter them manually.
STEP 2
The system generates the most profitable optimal routes and electronic waybills, creates 'flight assignments' and routes on the map for drivers
STEP 3
The system sends 'flight assignments' and routes to drivers' and couriers' mobile devices.
In the process of moving along the routes, the System monitors the correspondence between the Fact and the Plan, generates analytical reports for any period.
Take full advantage of Optimal logistics within the framework of the unified software system BelTransSputnik
and reduce your transportation costs
up to 60%
You might also be interested in
More solutions